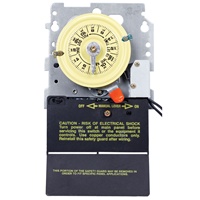 Features
This Time Switch Mechanism provides coordinated control for heater and filter pump operations.
It is designed to turn OFF a gas fired swimming pool heater approximately 20 minutes before the filter pump shuts down.
This...
---
Pool Supplies 2018 onwards. All rights reserved. Images, prices & product descriptions are for reference purposes only. All trademarks and registered trademarks are the property of their respective owners. This site may receive compensation if a product is purchased through one of our partner links.